#6 DARE Innovations
Empowering Health Tech Pioneers: How DARE Innovations Supports Health Tech Start-ups in Europe
What does DARE offer? 
We help HealthTech start-ups access funding and grow. Our services are tailored for Medical Doctors and Researchers helping them prevail in the business world to seize the funding needed for their innovation to reach patients and those in need. 
We have worked with 130+ health and biotech start-ups, prepared them for EIT and EIC Accelerator programs and mentoring in prestigious programs like Founder Institute, EIC Tech to Market, EIT Jumpstarter and more. So, what exactly do we bring to the table for your start-up?
Strategy and business development advisory
Growing your HealthTech start-up requires strong and strategic leadership and a keen understanding of funding intricacies. That's where we shine. We dive deep, work with you on your business strategy, competitive advantage, impact and funding roadmap peeling back the layers of uncertainty to ensure you get exactly the support your start-up needs to grow. 
Expert Funding Guidance
A HealthTech start-up's road to market is long and risky, therefore access to European funding programmes can be a game changer. DARE Innovation's expertise in navigating these opportunities can guide start-ups looking to take their ideas to the next level. We know these programmes inside out and have a proven track record in preparing emerging European talents to compete effectively and win their place for the first prize.
A Thriving Network
Success isn't just about what you know – it's also about who you know. Our network is vast, active and deeply interconnected across Europe. It's a goldmine of opportunities, expertise and most of all, a community of passionate individuals and organisations dedicated to the same mission: advancing healthcare through technology.
At DARE Innovations, we like to think of ourselves as the architects of your HealthTech success story. Dare to reshape the future with us!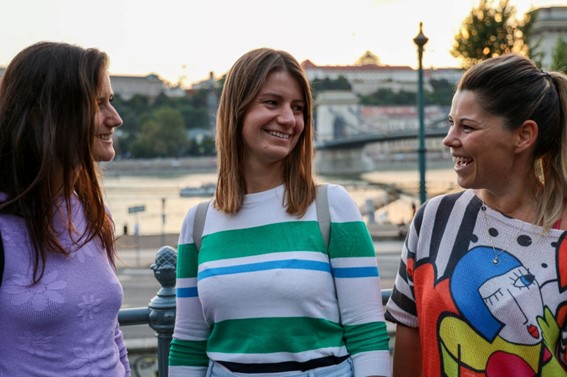 Examples of previous interactions with startups, how have you helped them grow? List projects, explain service delivery, impact…
Preparing BirgerMind® for investment-readiness
BirgerMind® helps patients with Amyotrophic Lateral Sclerosis (ALS) and Motor Neuron Disease (MND) regain the ability to use email, social networks and several other tools. Inspired by Birger, who is suffering from ALS for more than 27 years, the company develops a non-invasive Brain-Computer Interface (BCI) enabling fully paralyzed patients to communicate independently. With their technology and product idea, they entered the EIT Jumpstarter programme in 2021 and received tailored mentoring on their business model, value proposition and validation by our Managing Director, Dora. By the end of the program, they incorporated and won the first prize in the health category of this selective pan-European program, rising to the podium out of more than 200 teams. In 2023, Juris, the Founder, sought our advice again, this time in strategy and business development with the goal to prepare BirgerMind® for the EIC Accelerator application. 
Funding strategy and business development advisory for CycleAI
Out of a traffic accident on a biking lane, a Medical Doctor, Miguel and Data Scientist, Luís joined forces to develop a solution to increase bikers' safety in the cities. This is how CycleAI was born in 2020. Using their own AI model, CycleAI helps urban planning by estimating a score of perceived road safety and creating a safety map for entire cities. And for cyclists, they develop a machine learning route planner, which shows them the safest way to their destination. With our help, CycleAI elaborated their funding strategy, which allowed them to develop their business and grow their company.
Strategy Advisory to Cytocast on prioritization and focus
Cytocast™ offers cutting-edge medical technology solutions to support the streamlining of drug discovery pipeline, optimize treatments, and personalize patient care through their innovative software tools. We worked together with the CEO, Attila in the GO SME Programme by IESE Business School, a programme built to stimulate the EIC Accelerator selection process and prepare start-ups for the application. During our sessions, we advised the start-up on the strategic development of their two business lines: "Cytocast™ Simulated Cell" for drug discovery and development and "Cytocast™ Digital Twin" for the best treatment option for patients.
---
How has your startup benefited from this?
"With Dora's invaluable help in business development, CycleAI successfully secured its inaugural client and doubled its team size"
– Luís Rita, CEO & Co-Founder @ CycleAI
---
If you are a Startup interested to benefit from our industry experts you can apply for our program here
If you would like to promote your services here, you can contact us at impactbuilders@x2-0.eu 
https://x2-0.eu/wp-content/uploads/2023/11/X2.0-Project-2.png
900
1600
Mikel Curiel Muñoz
https://x2-0.eu/wp-content/uploads/2023/01/logo_x20.svg
Mikel Curiel Muñoz
2023-11-17 12:07:08
2023-11-17 12:19:22
#6 DARE Innovations